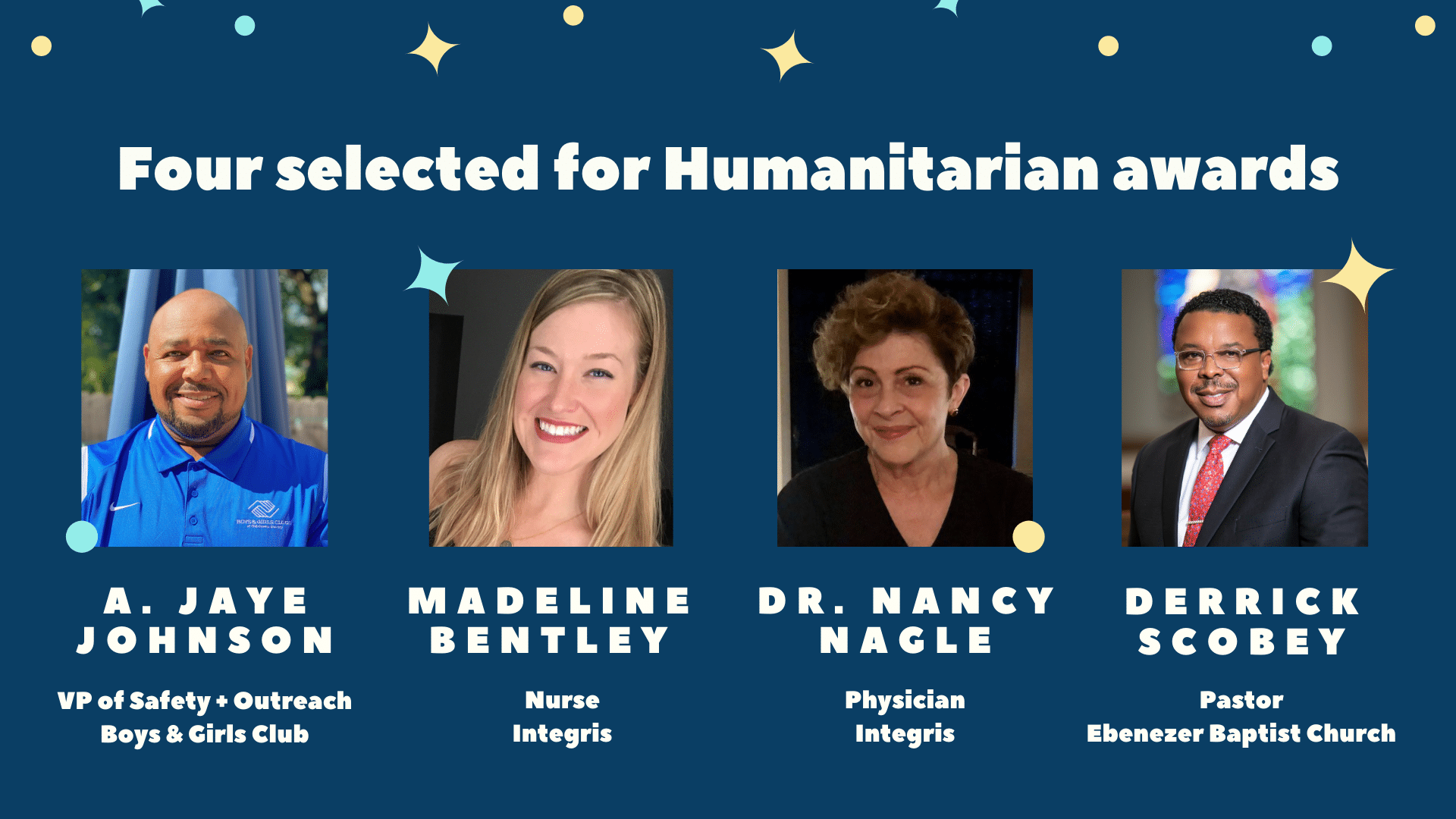 Monday September 21, 2020
Four selected for Humanitarian awards
Oklahoma City Public Schools has produced thousands of amazing individuals, but far too many never receive the spotlight.
The Foundation for Oklahoma City Public Schools Wall of Fame Humanitarian awards were launched 35 years ago to shine the light on OKCPS graduates who have made significant contributions to the world in business and industry, the arts, athletics and philanthropy.
Honorees over the years have typically been high-profile individuals whose accomplishments are widely known.
Since 2020 is the year when nothing is as it was before, the Wall of Fame Humanitarian Awards also made a pivot.
The focus changed to selecting local unsung heroes, with a special emphasis on COVID-19 and social justice-related work. The four individuals selected epitomize the criteria in every way.
Madeline Bentley is a graduate of Classen SAS and works as an ICU nurse at Integris Edmond. She chooses to work nights in order to have extra patient contact and has held the hands of patients of COVID-19 as they've taken their last breath. She spends her spare time speaking up on behalf of the LGBTQ community and the fight for racial justice.
A. Jaye Johnson is a graduate of Southeast High School and is vice president of safety and outreach at the Boys and Girls Club of Oklahoma County. Over the 18 years he has been with the Boys and Girls Club, A. Jaye has served as a positive role model and father figure for hundreds of kids. When the pandemic started, A. Jaye's commitment to the kids shone through as he helped develop programs and safety protocols in order to keep serving "his kids."
Nancy Nesbit Nagle graduated from John Marshall High School. When the pandemic began, she immediately volunteered as a front line COVID-19 pulmonologist in the ICU at Integris Hospital. She works 12-hour shifts to care for the most vulnerable patients and encourages citizens to mask up, wash hands and stay socially distant in order to minimize the spread. Her work with the Historic Preservation raised money to support local restaurants by providing food for healthcare workers.
Derrick Scobey is a graduate of Douglass High School and serves as pastor at Ebenezer Baptist Church. Throughout the pandemic, he has led efforts to provide food, Census completion, COVID-19 testing and even dog/cat food in the northeast OKC community, in Black townships and other parts of the state. He has also organized a group of pastors and community members to take part in "People, Pastors and Police" as a way to open communication between citizens and the police department.
Oklahoma City Public Schools has produced thousands of amazing individuals, but far too many never receive the spotlight.
Read Mary Mélon's original Oklahoman editorial.