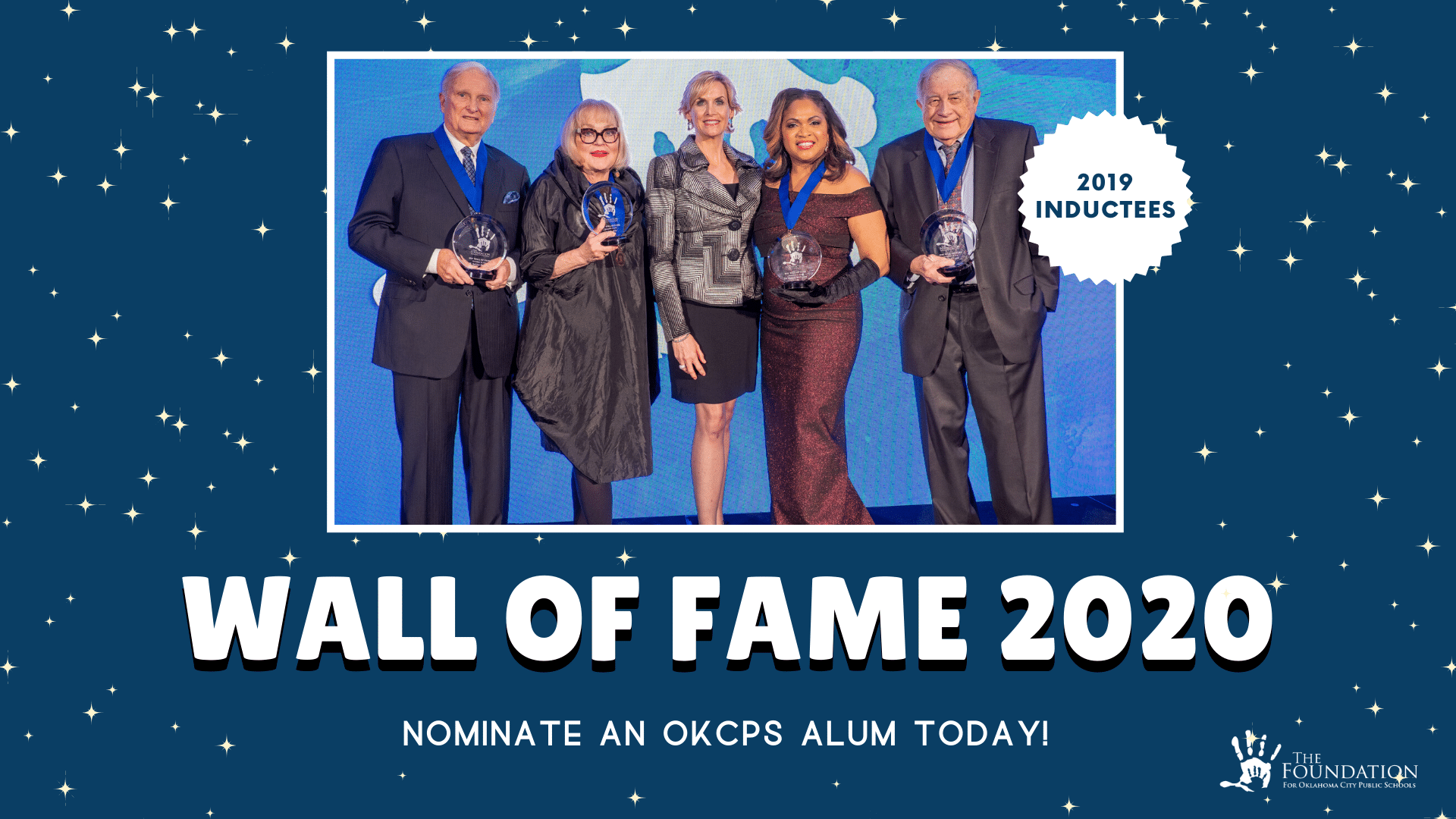 Wednesday June 10, 2020
Foundation Seeks Nominations for 2020 Wall of Fame Class
The Foundation for Oklahoma City Public Schools is seeking nominations for its 36th Wall of Fame Humanitarian Awards class, but this year's celebration won't look the same as in the past.
"After careful deliberation regarding our current public health situation, we have determined it is best and most appropriate to not host our traditional gala this year," said Foundation President & CEO Mary Mélon said. "However, we have seen many members of our community step up during this challenging year, and we don't want to miss the opportunity to celebrate their efforts."
Instead of a formal ceremony, the 36th class of spectacular Oklahoma City Public Schools alumni will be honored through traditional and digital media, starting this September.
In past years, the Foundation has looked across the country and world for its 2020 Wall of Fame honorees. This year, the Foundation wants to look right here in Oklahoma City to recognize OKCPS alumni making a difference during these challenging times.
Wall of Fame Humanitarian Award nominees must have attended and preferably graduated from an OKCPS elementary, middle or high school. The Foundation intends to honor people who have provided outstanding leadership to the Oklahoma City community by bringing unity through activism or advocacy, as well as those who served as first responders or health care providers during the COVID-19 pandemic.
The award celebrates the long, rich history of OKCPS, including alumni who are among the nation's most influential leaders in a wide variety of fields.
Nominations can be submitted through July 31 at okckids.com/event/wall-of-fame.
The Foundation is still seeking sponsors, and more information is available at okckids.com/event/wall-of-fame.
"Sponsorship dollars help us continue our focused work that serves both short- and long-term needs within the district," Mélon said. "Our students' and schools' needs are as significant as they've ever been, and we are continuing our work to advance excellence, create champions and build strong community support for lasting change in our schools."
This year's Wall of Fame class will also be honored in person at the 2021 gala.