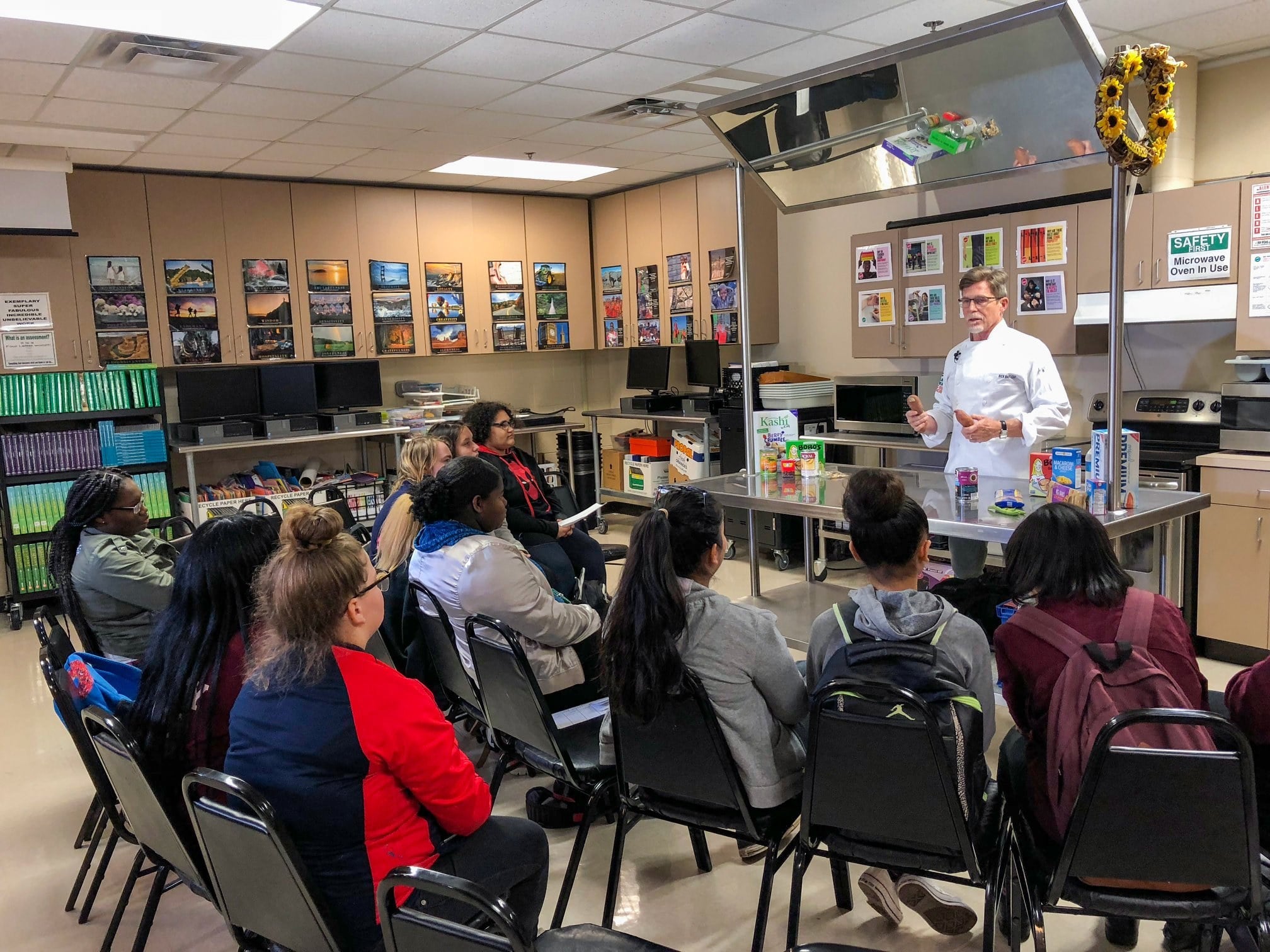 Monday November 5, 2018
Celebrity chef Rick Bayless visits Oklahoma City school
The culinary arts classroom at Centennial Mid-High was buzzing with excitement and anticipation as the students walked in and realized that Chef Rick Bayless was in their midst.
Bayless was in Oklahoma City for induction into the Foundation for Oklahoma City Public Schools' Wall of Fame event and visited Centennial to spend time with Chef/Instructor Carrie Snyder- Renfro's class.
Snyder-Renfro had arranged items from the school's food pantry and community garden and Chef Bayless talked to the students about preparing meals from the ingredients provided.
Using a strange combination of ingredients to come up with an award-winning meal is something he is familiar with through his years of participating in cooking competitions, so he jumped right in. From his choices, he picked beef and barley soup and macaroni and cheese. He added some fresh produce from the garden, sweet potatoes and green beans.
He talked with the students about ways a variety of flavors can be combined to create something savory and delicious.
Chef Carrie's message to Chef Bayless prior to his arrival was important for him to understand. The majority of these students rely on the school food pantry to be able to eat at home. Food insecurity is a way of life for them.
The community garden she built behind the school is a place where they learn, often for the first time in their lives, what a variety of vegetables and fruits look and taste like. She shared a story about when their first crop of strawberries came in and some of the students were afraid to eat them, having no knowledge that these sweet berries came from the ground.
Despite the generational poverty most of these students live with, these teen girls were just what you'd expect from teen girls. Some were quiet, but most were energetic, enthusiastic and engaged.
Chef Bayless spent time asking each of them what their current favorite was to eat and/or cook. A few were shy to answer, but he pulled each of them into the conversation and was genuinely interested in what they had to say.
Chef Bayless is a celebrity, but remembers where he came from. He graduated from Northwest Classen High School and grew up around the barbecue restaurant his parents operated.
He took a trip to Mexico when he was 14, though, and said that it immediately felt like home. He combined that love of Mexico with his passion for cooking and built a cooking empire around it, with seven restaurant concepts as well as seven published cook books.
He was completely comfortable in front of the cameras as he did media interviews and was just as comfortable accepting his award in front of 400 guests at the Wall of Fame dinner.
Celebrating celebrities is a great thing to do, and the Wall of Fame awards inspire our students to dream big. What can't be minimized, though, are the teachers like Snyder-Renfro who are in the classroom day in and day out. No glamour and not nearly enough thanks. Just hard work and dedication to the cause they believe in. Our kids. Our Best Investment.