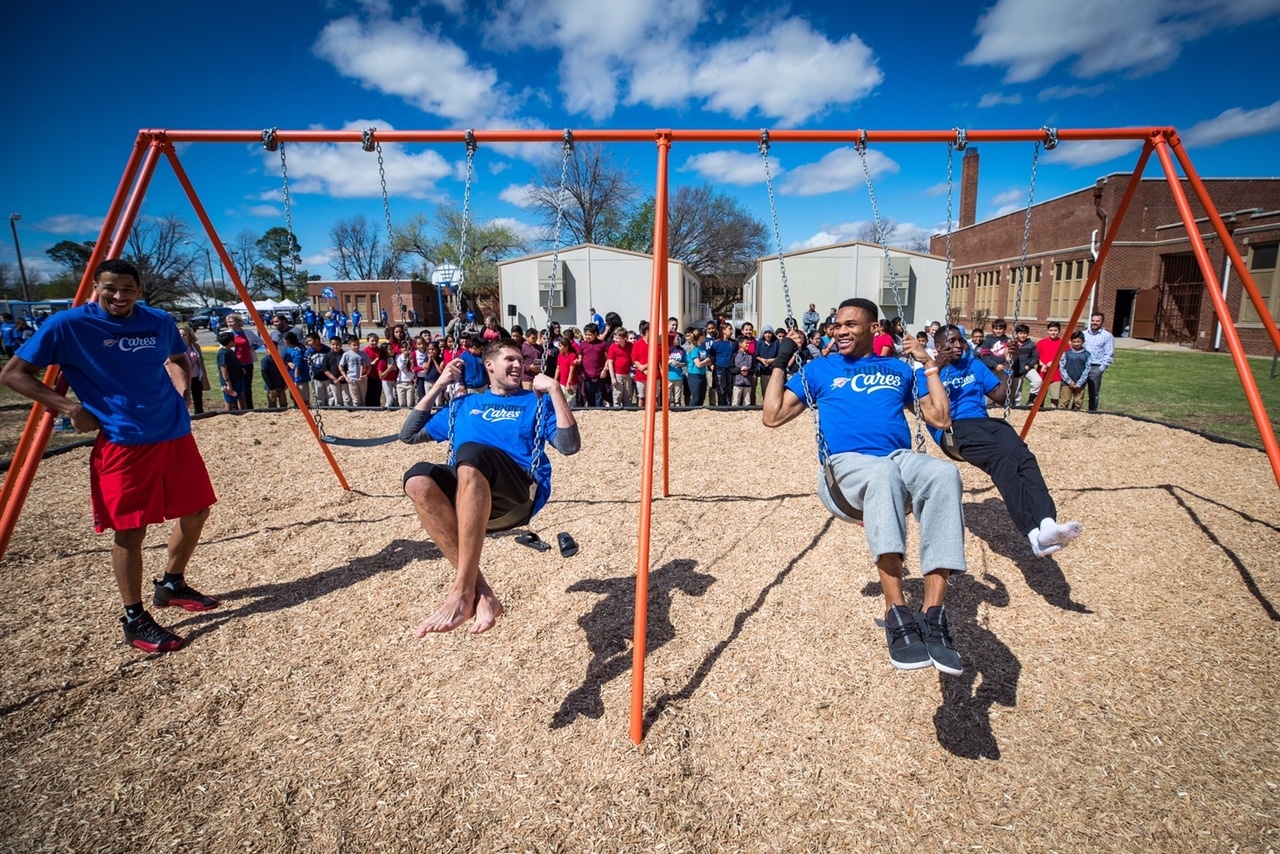 Monday April 24, 2017
Oklahoma City Thunder brings hope to school
On a windy spring day a few weeks ago, something magical happened with the Oklahoma City Thunder. It had nothing to do with Russell Westbrook's triple doubles, the score of a game or the playoffs.
It had to do with an organization showing heart for their community and care for the children of Oklahoma City Public Schools.
The entire Thunder organization, including corporate staff, coaches, coaching staff and players, converged on Westwood Elementary School to perform nothing short of a transformation.
Nearly 200 people decked out in Thunder Cares T-shirts brought in trucks full of supplies and tools, paint, plants and flowers, mulch, book shelves, basketball hoops, soccer netting, benches and cement. They brought the Thunder Book Bus and the Thunder Bolt entertainment truck. They brought popcorn and Thunder cups for every student and huge boxes of supplies for teachers. They brought musical instruments for the music class and basketballs for the PE class.
Westwood Elementary is on Exchange Avenue in South Oklahoma City. It was a school on the closure list when MAPS for Kids funds were being distributed, so was not a recipient of the upgrades most OKCPS schools received.
With the huge population growth surge in South OKC, it was taken off the closure list, but very few resources were allocated to infrastructure upgrades. Despite an amazing staff and a very active PTA, Westwood Elementary was a school in need of some love and attention.
Principal Susan Robertson posted the needs on Partners in Action, an initiative to connect schools and their needs with community partners, and the Oklahoma City Thunder responded. Partners in Action uses technology and relationships to make these connections. It is an initiative run by The Foundation for Oklahoma City Public Schools and Oklahoma City Public Schools, and has made nearly 400 matches and placed more than $477,000 in time, talent and treasure within Oklahoma City Public Schools since it began 1½ years ago.
As the Thunder staff and players worked their way through the projects outside and inside the school, the hallways and classrooms were abuzz with excitement.
The students were all given the chance to play outside and dance to music coming from the Thunder Bolt, shoot baskets and each received a book. Victor Olidepo played the drums in music class and danced the Cha-cha slide with the music classes. Even Sam Presti danced along.
Russell Westbrook organized books in the media center's new bookshelves and staff painted and "Thunderized" the teacher's work room. Outside, the grounds were cleaned and refreshed with plants and benches. The playground was painted in vivid sunset orange and blue. The basketball goals were replaced with Thunder backboards and new nets.
One particularly poignant moment was when the students ran outside and saw the playground for the first time, with one boy exclaiming, "Look, we have a soccer net!" This is seemingly such a small thing, but very important to these kids who previously had to chase the ball across the field when they made a goal.
The students mobbed the players and climbed them like trees that day. There were ear to ear grins on everyone's faces, except for the teacher who cried with joy most of the afternoon.
In addition to all the stuff, the Thunder brought love and joy to Principal Robertson, her staff and all the students of Westwood Elementary School. They also brought hope, and hope does magical things to change lives.
Read Mary Mélon's original NewsOK editorial.