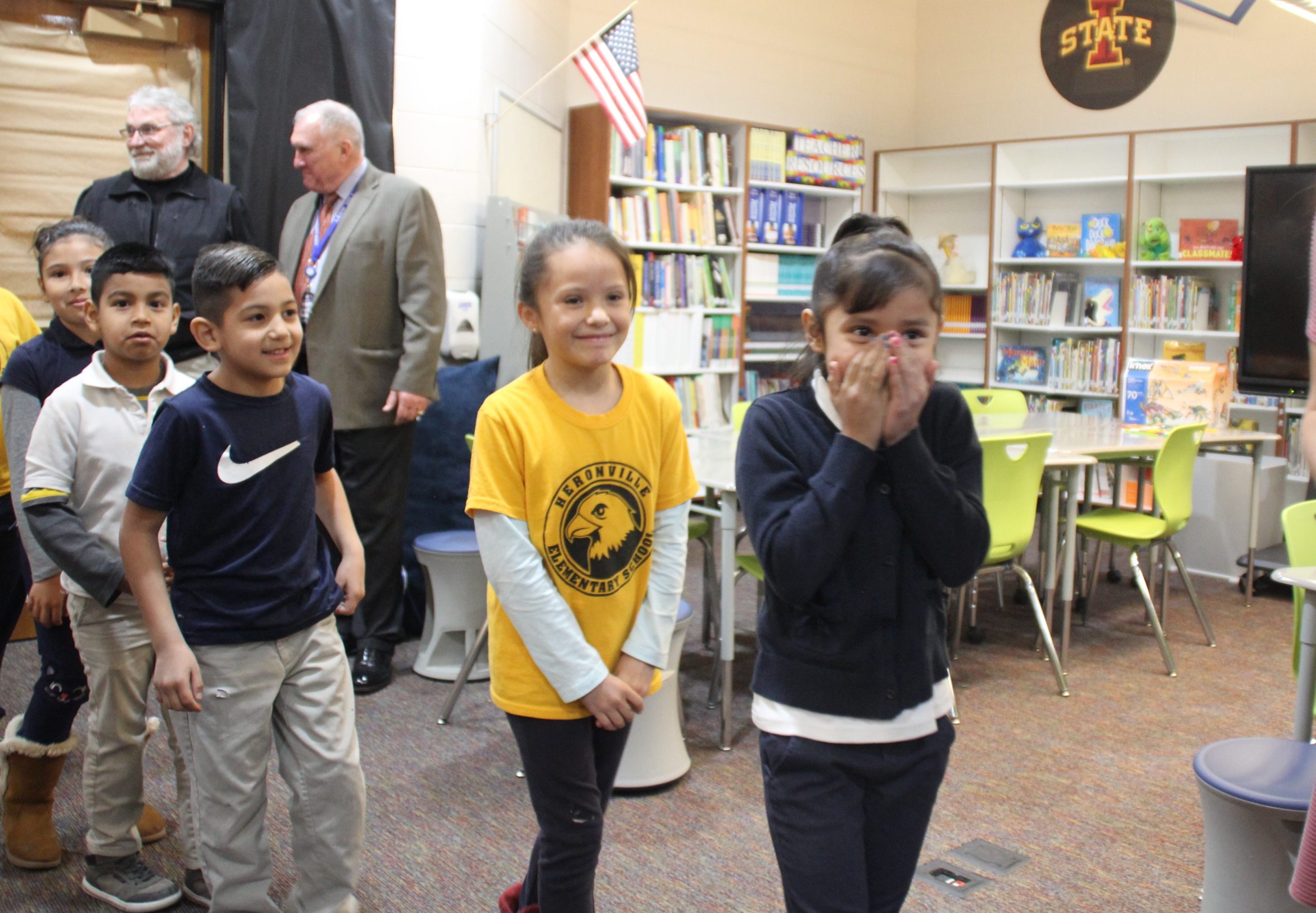 Sunday March 24, 2019
March Madness makeover promotes dreaming big at OKC school
March Madness comes and goes each year, but one Oklahoma City Public School recently received a gift that will last well into the future. Heronville Elementary School was the recipient of a $70,000 media center makeover, courtesy of the Big 12 Conference, in partnership with the College Football Playoff Foundation's (CFP) Extra Yard for Teachers initiative, Phillips 66 and Gatorade.
These entities came together to support a school in Oklahoma City through The Foundation for Oklahoma City Public Schools' Partners in Action initiative, which connects community partners with schools and their needs. One school in OKCPS and another in Kansas City was selected for support this year and Mayor David Holt, Superintendent Sean McDaniel and officials from the Big 12 and the CFP were on hand a few weeks ago to make the big reveal to the students of Heronville.
The enthusiasm as students made their way through the beautiful, bright and inviting space was abundant. The school media center is the central hub at most schools, and Heronville Elementary is no exception. But, the once basic and rather dark space is now filled with colorful furniture, bean bag chairs, interactive tables and computers, freshly painted walls featuring Big 12 logos, carpeting, as well as brand new bookshelves and fixtures. The transformation was significant and truly creates a new and inspired place for learning for the 900-plus students at the school.
Promoting literacy is the primary key for this makeover and creating a new space that welcomes students is a good way to encourage kids to read. The subliminal message that goes with Big 12 logos being displayed throughout the room can't be undervalued. The interactive spaces to promote teamwork and creativity are every bit as important as reading for these students.
Whether these students attend a Big 12 school or any college isn't exactly the point, though it is certainly an important part of the message. Dreaming big is really the point. Helping kids see that they can do anything and that there are adults who believe in them is the point. Our teachers and support staff do this every day, but they can't do it alone. The connections that Partners in Action makes in our schools is a reminder to our community that Oklahoma City Public Schools is our best investment. And, is a reminder to our kids that the community believes in them.
Read Mary Mélon's original NewsOK editorial.