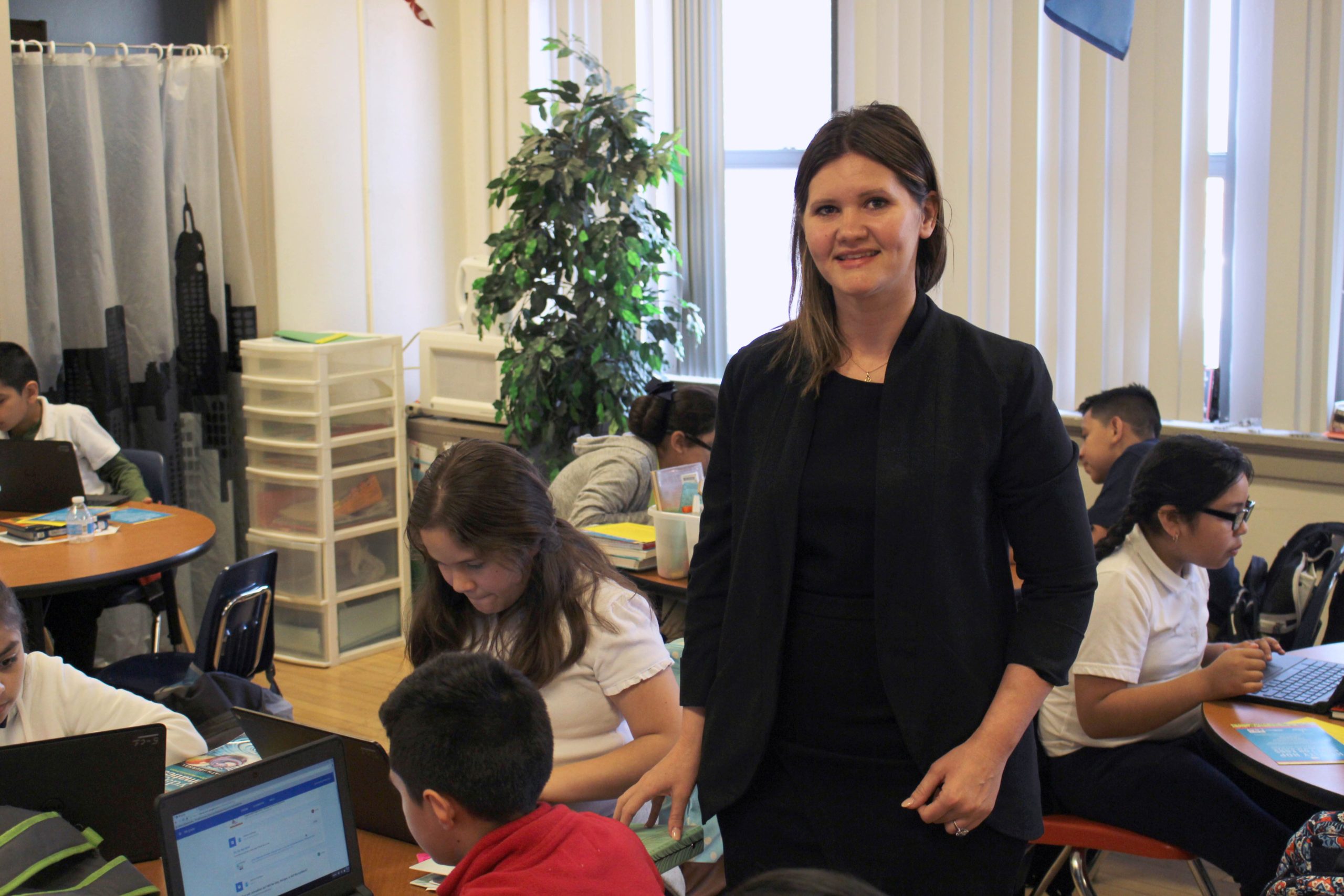 Friday May 6, 2016
Rebecka Graffigna Chosen OKCPS Teacher of the Year
OKLAHOMA CITY (May 2, 2016) – The Foundation for Oklahoma City Public Schools and the Oklahoma City Public Schools District announced the selection of Rebecka Graffigna as district Teacher of the Year at the 2016 Stars of Education celebration at St. Luke's Event Center.
Graffigna is a 5th grade teacher at Linwood Elementary School. She will receive a cash award from the Foundation and will represent the Oklahoma Public Schools District in the Oklahoma State Teacher of the Year competition.
Ceretta Bridges from Bodine Elementary School was named first runner-up and Megan Griffith from Cleveland Elementary School was chosen second runner-up. The winners were selected from a group of nine finalists who share a passion for teaching and strong commitment to serving their students, schools and community:
• Ceretta Bridges, Bodine Elementary School, Remedial Specialist
• Patrick Dennis, Roosevelt Middle School, Career and Technical Education (CTE)
• Rebecka Graffigna, Linwood Elementary School, 5th Grade
• Megan Griffith, Cleveland Elementary School, 6th Grade
• Kyla Kaufman, John Marshall High School, Visual Art
• Karen Mann, Webster Middle School, Language Arts
• Sharilyn Mosley, Southern Hills Elementary School, 3rd Grade
• LaRadius Allen Stephens, Classen School of Advanced Studies, Social Studies
• Lori Wilkerson, Oakridge Elementary School, 1st Grade
"The Foundation is delighted to recognize these outstanding educators who are a credit to the district and honor them with cash awards," said Mary Mélon, president and CEO of The Foundation for Oklahoma City Public Schools. "Picking a winner is always difficult, but after a thorough review process the committee was delighted to select Rebecka Graffigna. Her story shows how preparation, dedication and parental involvement are essential to student achievement."
As an education student at the University of Central Oklahoma, Graffigna served in the Urban Teacher Preparation Academy (UTPA). She said her UTPA training and guidance from mentors helped her see the benefits of working in an urban school environment with an ethnically diverse student population.
"By teaching my students aspects of their history they do not know and building up their cultural identity, they develop a deep trust and respect for my efforts as a teacher," said Graffigna. "Parents are appreciative of my efforts to build cultural pride and they support my endeavors. With parents as partners, I am able to work with the families to solve most issues."
The OKCPS Teacher of the Year has been named Oklahoma Teacher of the Year three times since 2000 – Talita DeNegri (2001), Robyn Hilger (2006) and Heather Sparks (2009).
About The Foundation for Oklahoma City Public Schools
Created in 1984, The Foundation for Oklahoma City Public Schools is a nonprofit organization with a mission to advance excellence, create champions and build strong community support for lasting success in Oklahoma City Public Schools. The Foundation works closely with the District and business community to align strategies and priorities for sustained performance improvement. Please visit us online at www.okckids.com for more information on our focus areas and volunteer and giving opportunities.