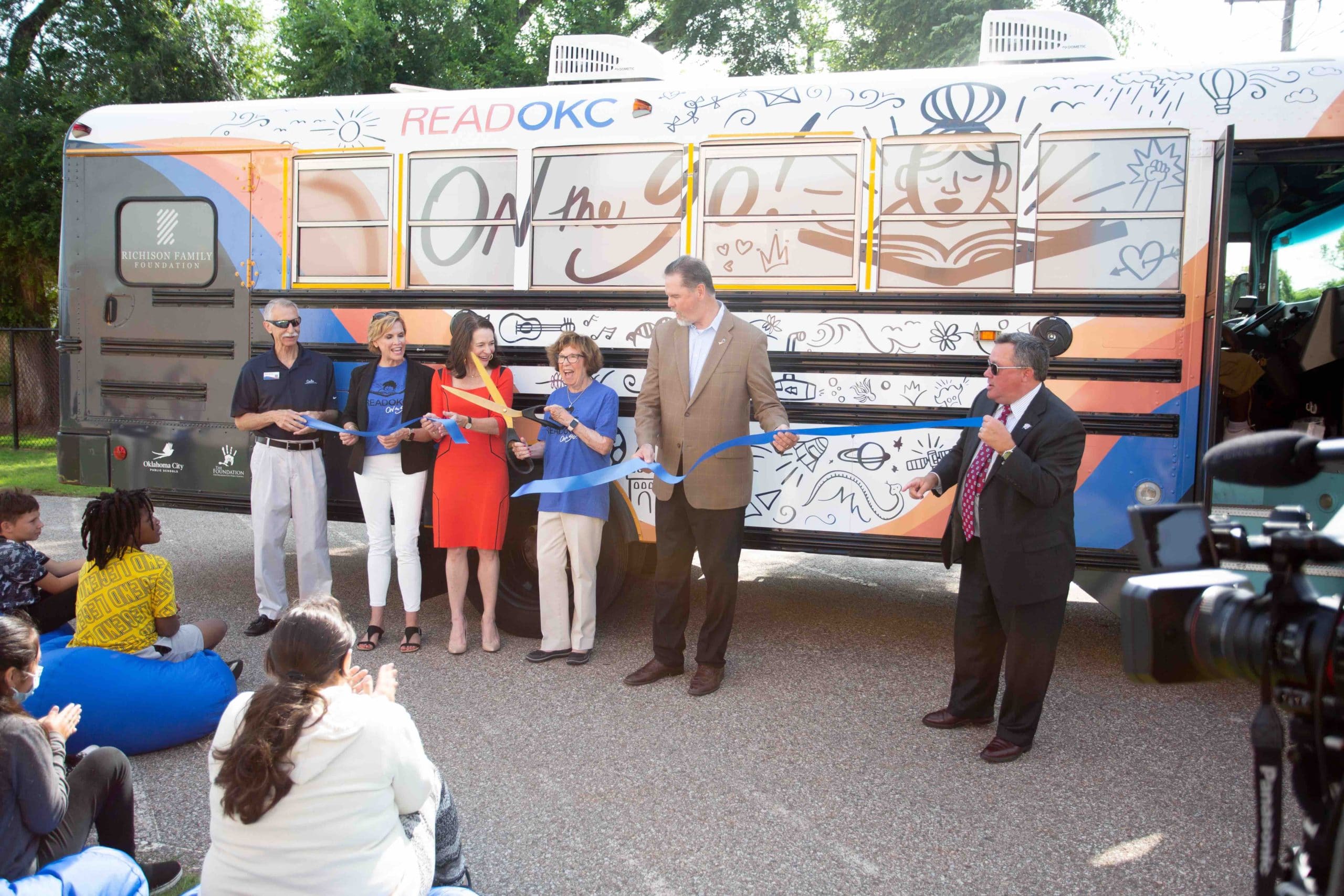 Tuesday August 17, 2021
The Foundation for OKC Public Schools unveils ReadOKC On the Go! Book Bus
OKLAHOMA CITY (July 14, 2021) – Students at Cesar Chavez Elementary School had the chance to expand their home libraries today during one of the first visits of the ReadOKC On the Go! Book Bus. Provided by Oklahoma City Public Schools, the ADA-compliant bus was modified into a mobile book bus and filled with books. Generous community partners helped to fund the bus, including the Richison Family Foundation, SONIC Foundation, Pi Beta Phi Foundation of Oklahoma City, and Potts Family Foundation. The bus is operated by The Foundation for Oklahoma City Public Schools.
As part of the ReadOKC goal to improve access to reading materials, the book bus will travel to all OKCPS elementary, middle and high school sites as well as community centers and events during the 2021-22 school year. Each visitor on the bus will be able to pick out and take home a book of their choice. The bus can hold up to 5,000 books at a time, giving students options that accommodate all reading levels and genres of interest. The goal is to distribute 10,000 books by the end of the calendar year. The books are provided through the generous support of community partners and there will be an ongoing need in order to keep adequate inventory. There are also ongoing volunteer opportunities for working with the project.
"Instilling a love of reading in all students is the mission of ReadOKC. Access to reading materials outside of school is a really important piece of building that love, as is building a child's home library," said Mary Mélon, President and CEO of The Foundation for Oklahoma City Public Schools. "The ReadOKC On the Go! Book Bus is helping to fill the gap that so many families in our community face. We are beyond excited to get this bus on the streets and out serving our kids. We are so grateful to our amazing donors and volunteers who are making it possible."
ReadOKC is an initiative of the OKCPS Compact created to promote the love of reading through organized reading challenges, the Reading Buddies program that connects caring adults to read with and mentor students, and improved access to reading materials. The ReadOKC On the Go! Book Bus helps to fulfill the goal of accessibility to reading materials and joins the ReadOKC Little Libraries that already are available to students throughout the district.
"Educators understand how critically important reading and literacy is to a student's success," said OKCPS Superintendent Sean McDaniel. "Seeing the community come together to support our kids through ReadOKC has been a tremendous help to our schools. Students who love to read will read more. Students who read more will have more success in school. The access to books and building students' home libraries that comes with the ReadOKC On the Go! Book Bus will benefit our kids for years to come and we are excited to be part of this exciting venture."