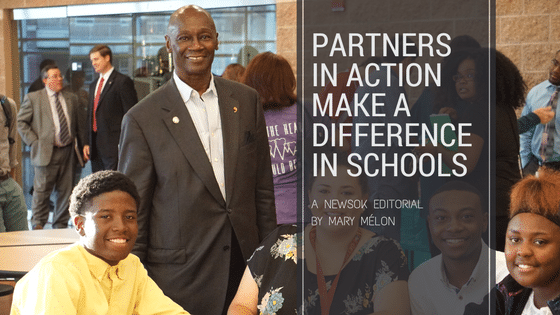 Monday February 13, 2017
Partners in Action make a difference for schools
Partners in Action make a difference in our schools. Oklahoma City Public Schools, in collaboration with The Foundation for Oklahoma City Public Schools, created and launched Partners in Action in September 2015. Originally conceived as a piece of OKCPS's five year strategic plan, The Great Commitment, as well as a strategic focus of The Foundation, the mission of Partners in Action is to connect community partners with schools in a meaningful way. In a very short time, this initiative has developed into a vital force for providing an infrastructure to successfully connect community partners with schools.
Partners in Action provides an online system by which community partners create profiles and post resources. Schools (led by principals) post requests and special needs for their schools. This "matching" system allows for never before captured data, which serves as an important metric for understanding the depth of community engagement, as well as for identifying schools most in need of community partnerships.
The impact of this work is already making a difference. More than 250 matches were made last school year, providing school leaders with vital tools including caring adult volunteers to work with students, teacher-appreciation gifts, dance team uniforms, school uniforms, mascot uniforms and much more. We also hosted community partners networking events at Star Spencer High School, Capitol Hill High School and Douglass Mid-High, which included all the feeder pattern schools. We brought together interested community partners, along with principals from each school to meet, interact and discuss school needs. Hundreds of relationships and partnerships were developed and numerous matches were made at each event.
The next community partner networking event is Thursday from 5-7 p.m. at John Marshall Mid-High School. Participating schools include John Marshall MHS, Oklahoma Centennial MHS, Britton ES, Greystone ES, Horace Mann ES, Nichols Hills ES, Johnson ES, N. Highland ES, Quail Creek ES, Ridgeview ES and W. Nichols Hills ES. These events are open to the community and all interested in engaging with our schools are encouraged to attend. Registration can be made by emailing partnersinaction@okcps.org or online.
Partners in Action is so much more than the online system. It is a movement. Community partners aligning with OKCPS and working alongside the district with one key focus, our students, will have transformative power and can jettison Oklahoma City Public Schools into the world-class school district that is held up as a national model. We've seen Oklahoma City citizens successfully join together to create a city that is a hub of business, culture and quality of life. It takes focus and strategic direction. Most of all, it takes partnership, collaboration and the willingness to work with one clear agenda. Our school district needs this. Our city needs this. Our students deserve it.
Read Mary Mélon's original NewsOK editorial.