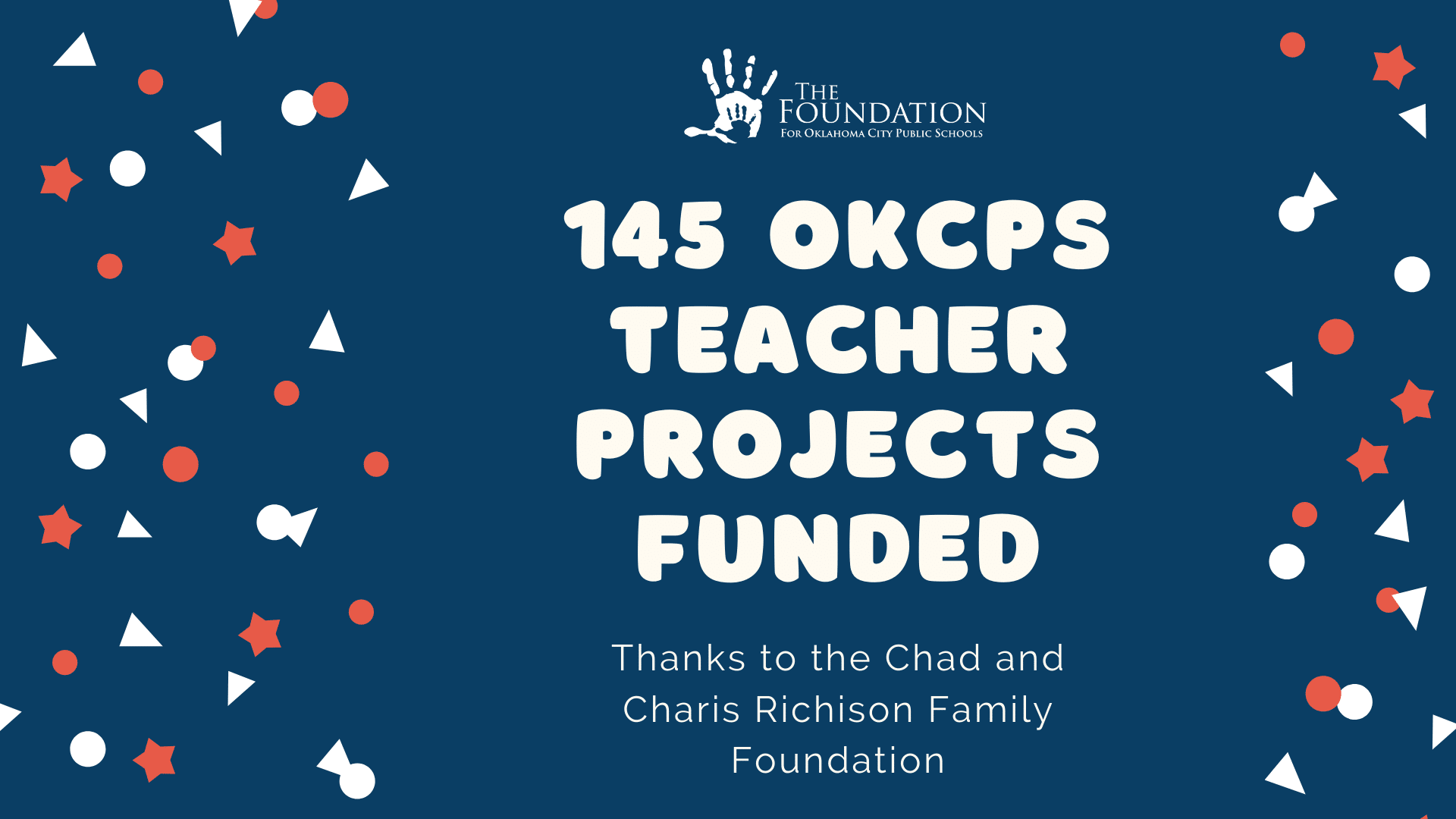 Monday August 31, 2020
145 OKCPS Teachers Get Funding for DonorsChoose Projects on First Day of School
The Foundation for Oklahoma City Public Schools (OKCPS) has a special surprise to get the school year started.
To celebrate the first day of school and to show continued support of teachers, the Foundation fully funded all distance learning projects posted on DonorsChoose by OKCPS teachers. The Foundation invested more than $81,000 in 145 projects. Funding was provided through a gift from the Chad and Charis Richison Family Foundation earlier this year, which is still being used to impact classrooms, teachers and students.
"Every OKCPS staff member has worked very hard to prepare for this new, different school year that will start with 100% distance learning," said Mary Mélon, president and CEO of The Foundation. "Providing teachers with the additional tools they need to support this different style of teaching hopefully shows them how much we appreciate them and all they do for their students. While we've assisted with funding thousands of projects for our teachers since our partnership with DonorsChoose began, doing something different this year by completely funding distance learning seemed right because of this very unusual environment."
Examples of teacher requests fulfilled include:
An iPad and Ozmo system to integrate speech-language centers for Southern Hills Elementary's speech therapist's virtual sessions
Headphones to help Esperanza Elementary students read books on their level at their own pace
Virtual art lessons for students at the Classen School of Advanced Studies
OKCPS Superintendent Sean McDaniel thanked the Foundation and the Richisons for the surprise.
"There are so many changes for our students and teachers as they begin this very unusual school year," McDaniel said. "Funding all of our teachers' DonorsChoose distance learning projects on the first day of school is a huge message of support to them. We appreciate our Foundation and the support of the Richison family so much for showing our teachers and students that the community is behind them."
DonorsChoose is a platform that allows anyone to help teachers access innovative learning materials for their classrooms.