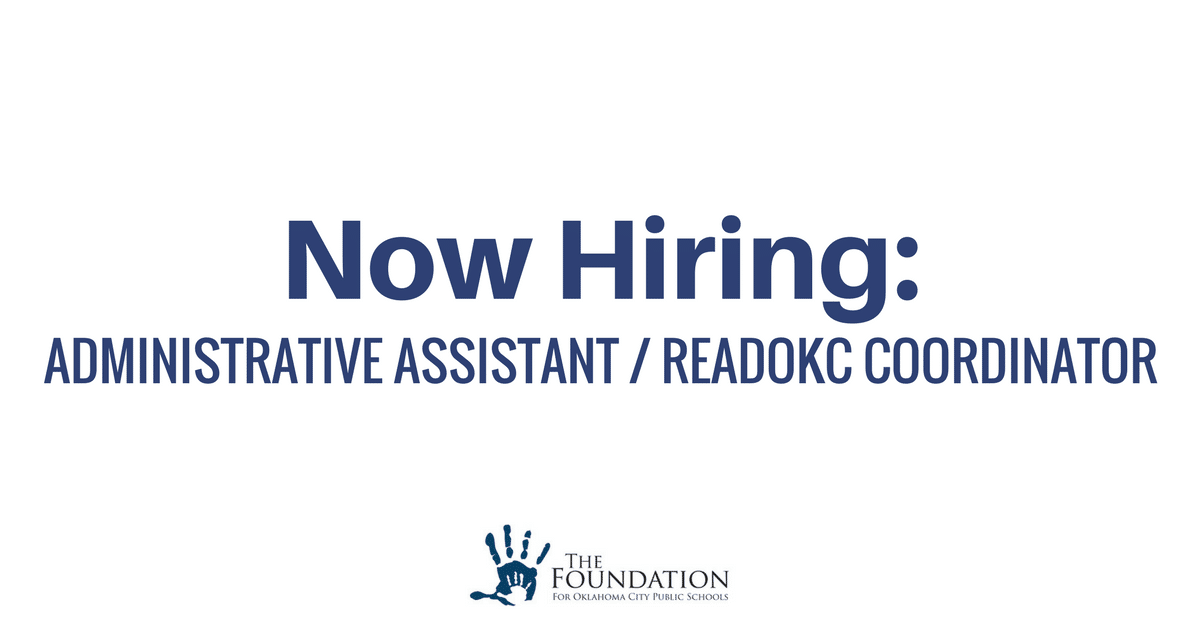 Friday March 16, 2018
Now Hiring: Administrative Assistant / ReadOKC Coordinator
Status: Full time, non-exempt
Reports to: Director of Programs and Outreach
Administrative Assistant Overview:
This position will function as administrative support for staff members including director of finance and operations, director of programs and outreach and office and events manager /executive assistant, as well as occasional support for the president/CEO. The position will have a diverse set of duties and responsibilities, so flexibility and the ability to thrive in a busy environment is key.
Office Responsibilities:
Daily deposit entries
Daily DonorPerfect entries
Manage DonorPerfect tax receipts/thank you letters
Manage/Update program spreadsheets (i.e. Coat-A-Kid, Kit-A-Kid, etc.)
Assist with board and committee meeting set up and tear down as well as meeting materials as needed
Answer, screen and forward incoming phone calls
Receive visitors by greeting, welcoming, directing and announcing them appropriately
Perform other duties such as filing, photocopying, transcribing and faxing
Order office supplies
Maintenance of DonorsChoose.org thank you notes
Prepare and send monthly statements
Organize and file financial documents
Serve as back up to the office and events manager/executive assistant
Other duties as assigned
Event Responsibilities:
List management
Assist with invitation and mailings
Assist with event set up and tear down
Oversee All Hands Raised Entries within the first five business days after the event
Other duties as assigned
TEAM Responsibilities:
Team Lead
Record pledges
Manage and balance TEAM spreadsheet
Scan and save pledge cards
Order TEAM campaign supplies
Answer TEAM emails
Co-collaboration
Assist with all TEAM related document preparation
Assist with planning and organizing the TEAM kickoff event
Assist with outreach to schools not participating
Other duties as assigned
ReadOKC Responsibilities:
Regular communication with ReadOKC Chair/Foundation President/CEO and key volunteers
Serve as the primary point –of-contact to the ReadOKC volunteer, taskforce members and project team members
Attend monthly ReadOKC taskforce, steering committee and project team meetings
Maintain all ReadOKC files and materials
Keep ReadOKC master list up-to-date
Prepare draft agendas and other materials for meetings
Send meeting notices to taskforce members
Maintain attendance RSVPs
Assist and provide support to the project teams as needed
Coordinate ReadOKC events
Coordinate & schedule volunteers and special guests for various ReadOKC events & initiatives
Other duties as needed and assigned
Required Skills:
Passion for The Foundation's mission
Excellent customer service skills
Proficiency in Outlook, Word and Excel
Database management experience preferred
Positive, can-do attitude and love of working with a dedicated team of professionals
Interested parties should send a cover letter, resume and three references to Debby@okckids.com.