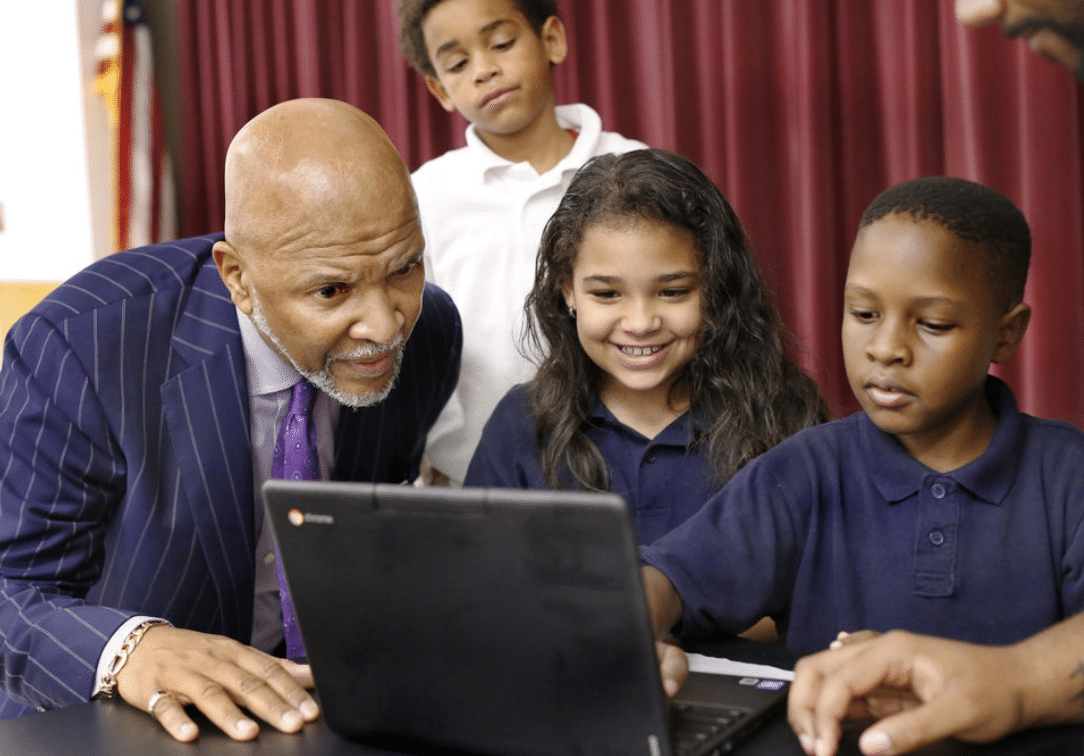 Monday November 6, 2017
Thurman V. White inspires students in Oklahoma City Public Schools
Celebrating and honoring individuals for significant accomplishments does much more than make the recipients feel good. Recognizing the achievements of others serves to inspire well outside the event itself. The Foundation for Oklahoma City Public Schools held the 33rd annual Wall of Fame and Humanitarian Awards dinner last Thursday and the new inductees joined a group of exceptional people who began their journeys in the halls of Oklahoma City Public Schools buildings.
Dr. Lee and Sherry Beasley, Pete White and Thurman V. White each have great stories of their days in OKCPS. They have all made their mark in Oklahoma City and beyond in a number of significant ways. The Beasleys and Pete White are local and continue to serve our city. So much could be written about each of them, but this column will be devoted to Thurman V. White.
White left Oklahoma City in 1968, after graduating as valedictorian of the Class of 1968 at Douglass High School. He received an academic scholarship to Princeton University. He graduated with a degree from the School of Public and International Affairs and also earned a degree in African-American Studies.
After college, White worked as a journalist for Newsweek magazine and lived in the San Francisco Bay Area. He attended Stanford University and received his master's degree in communications. He went on to law school at Berkeley Law at the University of California and has been a member of the California Bar since 1981. He has written and produced an award-winning documentary film on Allensworth, California's only all-black town as well as a PBS TV documentary.
For the past 25 years, White has worked to help build and lead one of the largest African-American-owned asset management firms in the U.S. Progress Investment Management Company LLC has a national institutional client base of $7 billion in assets under management. He has been recognized as one of the 75 Most Powerful Black Professionals on Wall Street on several occasions. Progress has been ranked by Black Enterprise as one of the top 5 African-American-owned investment management firms in the country. He has written many case studies, papers and a book on the topic of fostering greater diversity and minority inclusion in investment management and is a frequent speaker on the subject. He is also a philanthropist and has done much to support education, scholarships for at-risk youth and much more.
To say that Thurman V. White has an impressive background would be a tremendous understatement. And, to say that his induction into The Foundation for Oklahoma City Public Schools is just another award for his shelf is completely untrue. White came to town and visited two schools: Thelma Parks Elementary, where he participated in a recognition assembly for his former English teacher, Thelma Parks; and Douglass Mid-High School where he spoke to students in the Law and Public Safety Career Academy. He donated 30 Chromebooks to Thelma Parks Elementary School and is working with the Foundation to determine other ways to be involved.
Every student in OKCPS and the entire city can be inspired by this man who remembers where he came from and who has the dedication to give back.