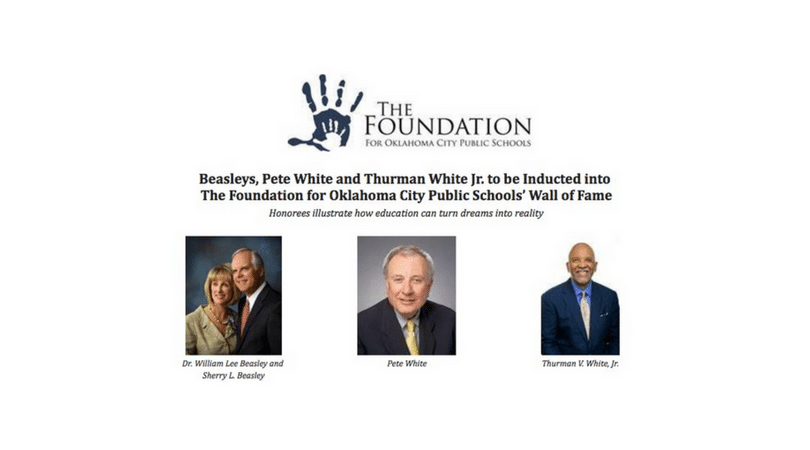 Monday July 6, 2015
Beasleys, Pete White and Thurman White Jr. to be Inducted into Oklahoma City Public Schools Foundation's Wall of Fame
The Foundation for Oklahoma City Public Schools will induct three new members – including a married couple entering as one honoree – into the Wall of Fame on Nov. 2 at the organization's 33rd annual Wall of Fame Humanitarian Awards dinner. They will join 77 other alumni and community leaders who have been inducted since the Wall of Fame was created in 1985.
Dr. Lee and Sherry Beasley graduated from John Marshall High School. Dr. Beasley has been an endodontist in Oklahoma City since 1977 and Sherry Beasley founded local interior design firm Interior Images Inc. after teaching fourth grade.
Pete White is a Southeast High School graduate who served as Oklahoma City's Ward 4 Councilman for 19 years.
Thurman V. White Jr. was valedictorian of Douglass High School's class of 1968. He went on to help build and lead one of the largest African American-owned asset management firms, Progress Investment Management Co. LLC.
"These honorees serve as role models to the nearly 46,000 students in Oklahoma City Public Schools, illustrating how education can turn dreams into reality," said Mary Mélon, president and CEO of The Foundation for Oklahoma City Public Schools. "Lee, Sherry, Pete and Thurman are a testament to the strength of public education. They demonstrate the lasting value of investing in our students."
Over the past 33 years the Wall of Fame has celebrated the long, rich history of Oklahoma City Public Schools. It includes some of the city's and nation's most influential community leaders. The event will include a reception at 6 p.m. and dinner at 7 p.m. on Nov. 2 at the Embassy Suites Oklahoma City Downtown/Medical Center.
Paula B. Pretlow, a 2016 Wall of Fame honoree, and Brent Hensley, general manager of KOCO, are co-chairs for the event.
For sponsorship information, please contact debby@okckids.com.