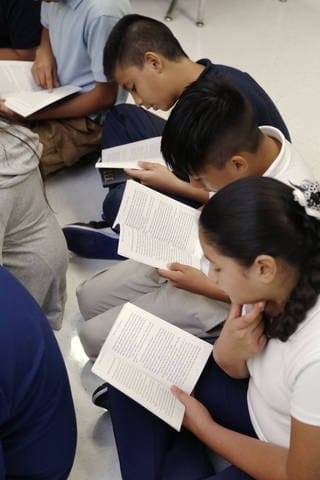 Monday August 8, 2016
Love's Travel Stops Delivers Books to OKC Fifth-Graders
Love's Travel Stops and The Foundation for Oklahoma City Public Schools teamed up Wednesday to brighten the third day of school for fifth-graders at Adams Elementary.
The students received free copies of the book "Blood on the River," courtesy of Love's, which is funding $120,000 worth of school district projects and initiatives through the foundation.
Included in that amount is $70,000 for the Coat-a-Kid program, which provides new winter coats for students in need.
Teacher Monta Johnson requested the books, which tell the story of Samuel Collier, a rough-and-tumble young orphan who becomes Capt. John Smith's page on his journey to the New World.
Johnson opened boxes of new books and handed them out to students, who read as representatives from Love's, the foundation and the school district looked on.
The donation of 90 books will help offset the elimination of the district's $206,000 library media budget due to funding cuts..
Read the original article on NewsOK.