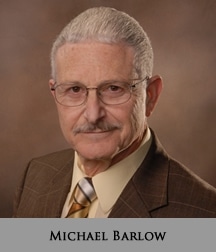 Monday November 30, 2015
Board member, education advocate passes away
Michael Barlow, an education advocate, teacher, community leader, and board member of Oklahoma City Public Schools Foundation since 2013, passed away on Nov. 28, 2015.
Barlow, 71, was a former teacher at US Grant High School, founded Barlow Education Management Services in 1985 and was inducted into the Oklahoma Educator's Hall of Fame in 2010.
"Michael had a positive spirit and energy that was palpable," said Mary Mélon, president/CEO of Oklahoma City Public Schools Foundation. "He was one of the few board members that I had never met before I joined the Foundation staff, and I immediately felt like I'd known him for a long time. He was incredibly supportive and encouraging, and had such a caring heart and passion for the work we do for the students of OKCPS."
Foundation board chair Cliff Hudson said Barlow was a longstanding force for advancement in the district.
"He moved comfortably from his role as a classroom teacher to that of strategic leader," Hudson said. "It was my pleasure to work with him for a number of years as he advised school districts on various issues, including teacher contracts."
Barlow's career included director of governmental affairs with the Cooperative for Oklahoma School Administration and serving on the state advisory committee to the U.S. Office of Civil Rights and the Oklahoma Public Employee Relations Board. His firm provided consulting services to school districts on a variety of issues, including employee relations and evaluations, collective bargaining and professional development.
On The Foundation board, Barlow served on the HR committee and the DonorsChoose.org committee.
"We all seem to have the same view of Michael; kind, caring, thoughtful and most interested in the children of our community," said Percy Kirk, a senior vice president at Cox Communications and vice chair of The Foundation's board. "We were lucky to have him as part of the Foundation and our community"