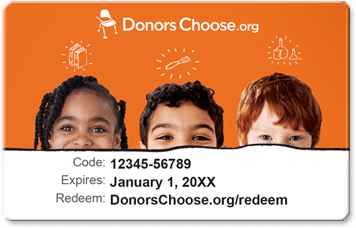 Friday November 20, 2015
Giving that impacts our classrooms
Give a DonorsChoose.org gift card this season
The Foundation for Oklahoma City Public Schools has partnered with DonorsChoose.org, which offers donors the chance to impact a local classroom in a direct way. This holiday season The Foundation is encouraging you to consider giving the gift of a DonorsChoose.org gift card to the people in your life.
You can load gift cards with any amount and the recipient gets to review OKCPS classroom projects and pick which ones they want to support. This is a gift that not only gives back, but allows the recipient to choose a project, school and class that tugs at their heart.
Gift cards can be emailed, but physical cards can arrive before Christmas if ordered by Dec. 19.
Learn more about The Foundation's partnership with DonorsChoose.org here.