Stars of Education & Teacher of the Year
2023 OKCPS Teacher of the Year Celebration: May 4, 2023
Oklahoma City Public Schools Foundation honors those who do the day-to-day work of educating our city's children through our Stars of Education/Teacher of the Year event! The community-wide celebration starts in the fall of each school year when District staff, students, parents and community members submit nominations for the Partners in Action Community Partner of the Year, Super Support Staff Awards and Valuable Volunteer Awards.
Each school site also selects their "Site Teacher of the Year" each fall. This gives the district's top educators time to put together a comprehensive portfolio demonstrating the educator's teaching philosophy, which is then reviewed by past district Teacher of the Year finalists, honorees and state Teachers of the Year. With a lot of hard work, these submissions are narrowed down to an elite group of nine finalists, who compete to represent the Oklahoma City Public School District in the State Teacher of the Year competition.
The celebration is usually held in the spring as site-based award ceremonies are held throughout the District celebrating the top partnerships, support staff and volunteers. As the school year draws to a close, the Stars of Education celebration concludes with the district Teacher of the Year announcement.
2022 OKCPS Teacher of the Year
Kimberly Banz, Classen SAS High School at Northeast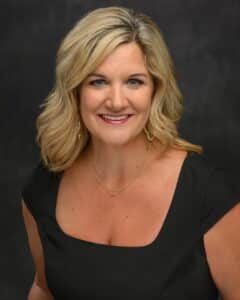 Contact Kimberly: kmbanz@okcps.org
View the 2022 Stars of Education/Teacher of the Year Celebration