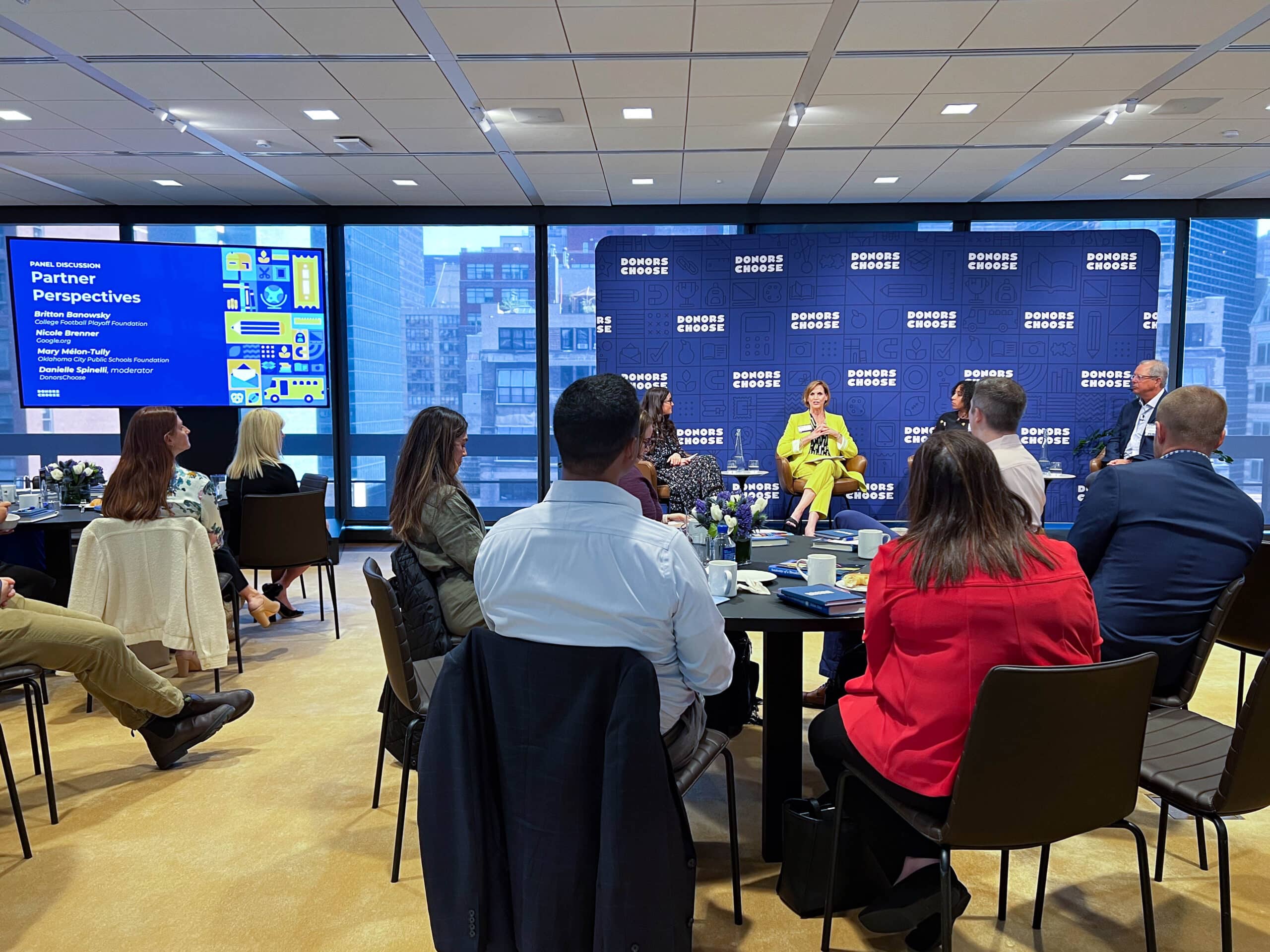 Monday June 5, 2023
OKC Public Schools Foundation lauded as one of longest, strongest partners of DonorsChoose
Honoring and supporting the profession of teaching builds retention at a time when teachers are leaving in huge numbers and enrollment in teacher education programs is at a record low. It is certainly about pay, and our teachers are thankfully receiving a well-deserved pay raise thanks to legislation passed this session. Flipping our mindset to one that truly recognizes the value and professionalism teachers and educators bring to their classrooms is what will turn the tide, understanding that the responsibilities we place on our teachers and the unfilled needs remaining in our classrooms are an undue burden that must be shared and changed.
Teachers across the country spend an average of $500 of their own money on their classrooms each year. Teachers from high poverty school districts tend to spend at a higher rate. Those are statistics provided by DonorsChoose, a web-based platform dedicated to serving the needs of teachers. Teachers who have had even one project funded by DonorsChoose are 1% to 3% more likely to stay in the classroom.
DonorsChoose was founded in 2000 by Charles Best, then a teacher in the Bronx, who had an idea that there were people in the world who wanted to help him and his colleagues who were struggling to fill their classrooms with everything from basic supplies, to classroom sets of books, to innovative project-based materials and everything in between. He was right. DonorsChoose has received more than $1.4 billion from 5.7 million citizen donors to support requests from teachers at 87% of public schools across America. In total, nearly 90,000 schools have benefited.
DonorsChoose held a Partner Summit recently in New York, and the Oklahoma City Public Schools Foundation was lauded as one of their longest and strongest partners. Serving on a panel with the executive director of the College Football Playoff Foundation and the giving manager at Google was an opportunity to tell the story of how we've served our teachers and leveraged the power of DonorsChoose to make our organization the largest education foundation partner DonorsChoose has in the country.
The room was brought to tears when actress, host and producer Yvette Nicole Brown moderated a panel of New York City educators. Erick Odom shared his focus on teaching his students to be engaged in current events. Joy Hines shared that a DonorsChoose project helped her bring yoga into her classroom to help center her kids struggling with trauma. Franshesca Chaterpaul shared that she started a clothing closet with help from DonorsChoose. She told the story of a newcomer student who was very excited to get a new pair of shoes and how she encouraged him to keep the old, tattered pair that he had literally worn across the border to remember where he came from. In reality, each of these three could have been right out of any public school classroom in our state ― they were authentic, smart, articulate and professional. They love their students and the profession of teaching.
The DonorsChoose Partner Summit was filled with partners from across the country who value and support teachers and public education, all realizing fully that the community and private sector is critical to filling the gaps for our kids. It also was mentioned numerous times how wonderful it would be if everyone held the same value system and if DonorsChoose wasn't necessary.
–Mary Mélon-Tully, President and CEO of the Oklahoma City Public Schools Foundation.