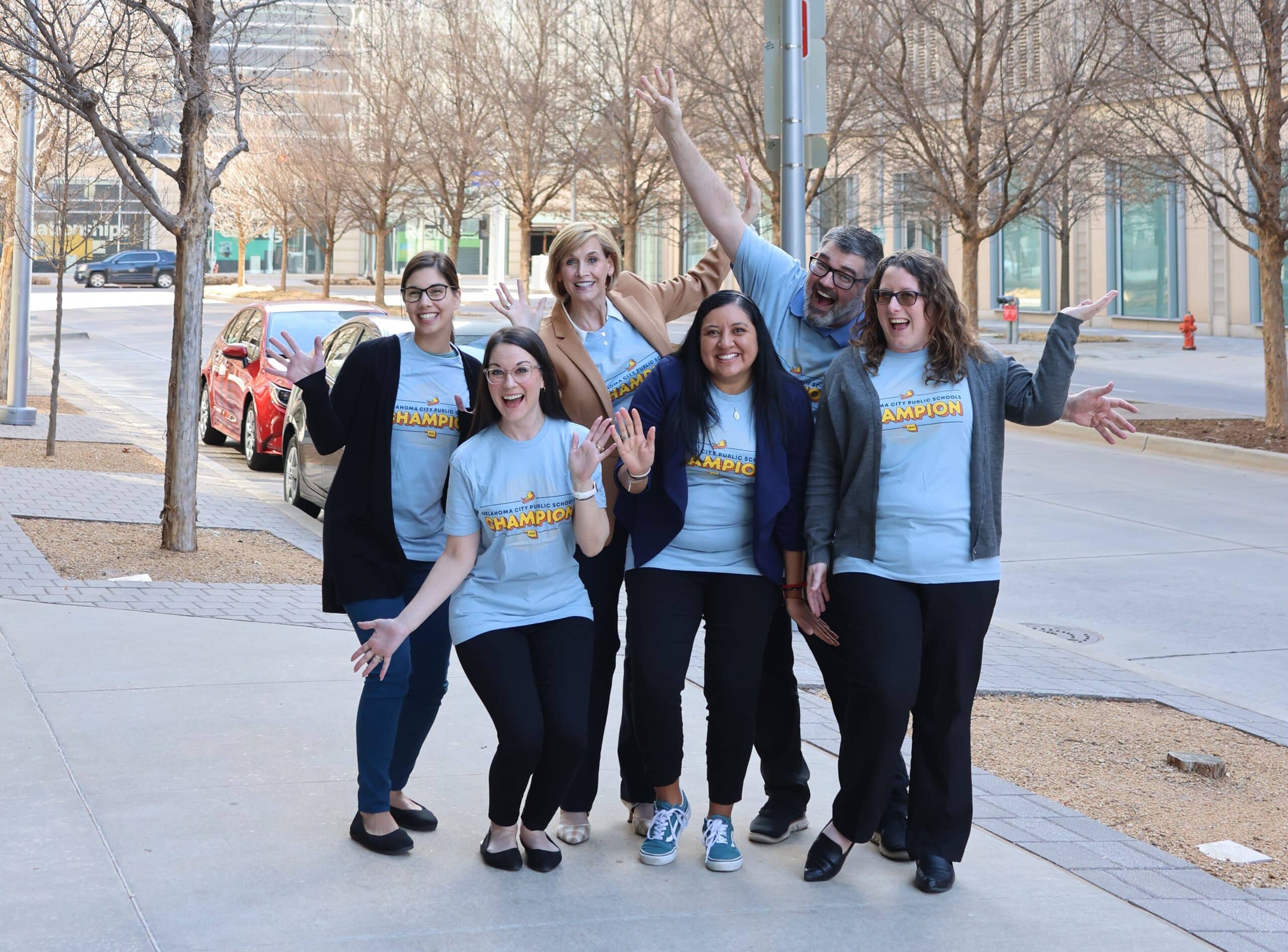 Monday March 20, 2023
Be a Champion for OKCPS Students, Teachers and Staff. It Matters.
Last year we asked our community to T-Up for OKCPS when it was just a concept. The OKCPS Foundation borrowed the idea from colleagues at the Ed Fund in Philadelphia, who have been successfully Dressing Down for Philly Schools for several years. This year we've launched our 2nd Annual T-Up for OKCPS after a successful first year raising $75,000 and selling thousands of T-shirts. All funds raised benefit the programs of the OKCPS Foundation.
The concept is simple: We're asking all members of the community, including the business community, alumni and anyone wanting to show support for OKCPS to purchase a $25 special -edition OKCPS Champion T-shirt (in English or Spanish) and wear it in a show of solidarity on May 4.
The May 4th date is intentional. It coincides with the OKCPS Foundation's annual Stars of Education event, when the OKCPS Teacher of the Year is announced and the Sam and Charolet Shirley Outstanding Principal Award winners and other special honorees who do the day- to -day work of supporting our students are celebrated.
The shirts are designed and produced by local operators at the Oklahoma Shirt Company. Thirty -two organizations have already stepped up as sponsors and will be listed on the back of the shirts. Influencers from throughout the metro area, including the Mayor, several area legislators and community/business leaders will be seen promoting the shirts on social media. They got their shirts early to help spread the word while the online store is open March 1 through April 17.
Why does it matter to let our students know that we are their champions? Why does it matter to let the hard working professionals who have dedicated their lives to educating and caring for our kids know that we are their champions? Because schools can't do it alone. Our schools are asked to do a lot more than educate our children, who come to school each day with many needs.  Our educators are there to welcome them with open arms and often times with very little thanks, especially during the turbulent politicized environment we're currently in. Showing up on May 4th in OKCPS T-Shirts is a small thing that will make a big statement when outside forces are often times more negative than positive.
Why does it matter? Because many of our families are struggling. In fact, 90 percent of OKCPS families live at or below the poverty line. Whether it is to help families with coats for their kids, or with books for home libraries, or building diversity in our teacher and leader workforce, the OKCPS Foundation is here to help fill some of the gaps to directly support our 34,000 kids, their families and each of our 63 schools.
Why does it matter? Because if we as a community don't step in as OKCPS Champions, who will?
To learn more about T-Up for OKCPS and to order shirts, go to www.okckids.com/t-up