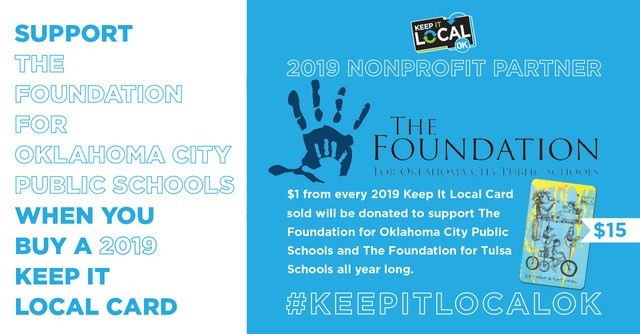 Monday November 26, 2018
2019 Keep It Local Cards to Benefit The Foundation for OKCPS
2019 Keep It Local cards are now available for purchase and will help support area schools.
The cards, which provide discounts at more than 300 local businesses, are available online (keepitlocalok.com) and at participating locations for only $15. For every card sold, $1 will be donated to benefit The Foundation for Oklahoma City Public Schools and The Foundation for Tulsa Schools.
"Partners like Keep It Local help create strong community support for public schools," said Mary Mélon, president and CEO of The Foundation. "This is a creative vehicle for fundraising, and the Foundation for Oklahoma City Public Schools is honored to be chosen as a recipient."
Bryce Bandy, co-founder of Keep It Local, said the organization's mission is to boost awareness of locally-owned businesses and strengthen the Oklahoma economy.
"Public schools are the heart of our cities and towns," said Bandy. "Without strong schools, it's almost impossible to have a thriving business community. Giving back to education elevates everyone who lives here."
For a list of participating businesses, download the FREE Keep It Local OK app on the iTunes App Store or Google Play.