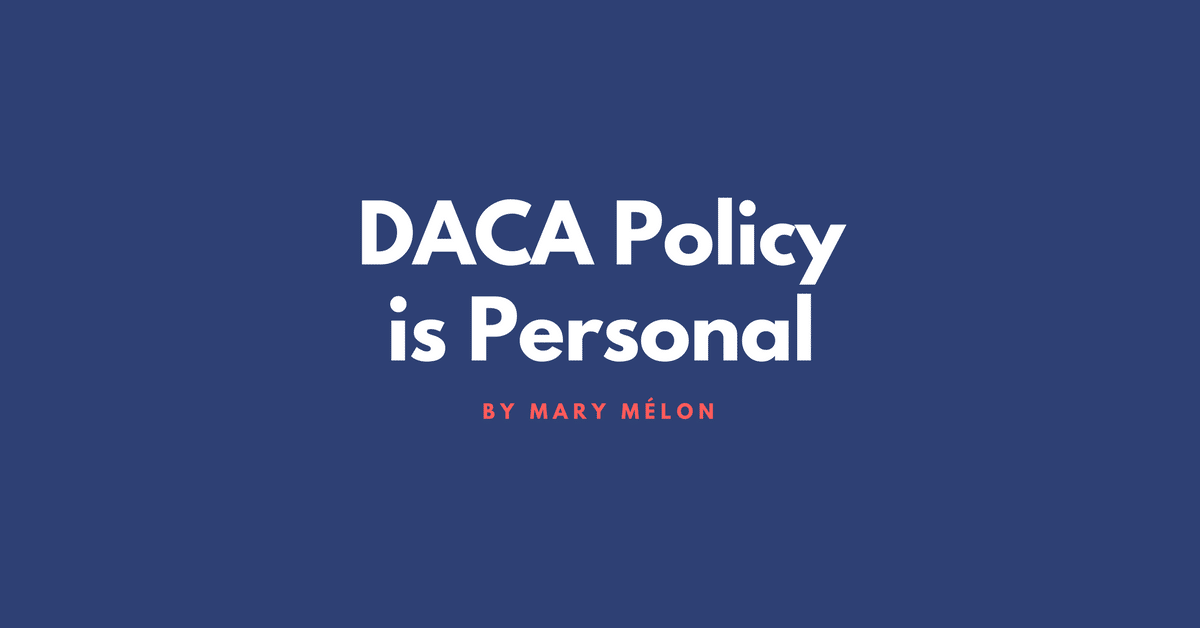 Friday September 8, 2017
DACA Policy is Personal
Policy is personal. President Trump's decision to reverse the executive action on Deferred Action on Childhood Arrivals (DACA) and allow Congress six months to develop and pass an immigration plan affects approximately 800,000 lives in the United States. Millions if you count the friends, neighbors and co-workers whose lives these Dreamers touch.
It is difficult to get one's head around a number as large as 800,000. So let's focus on one young woman who moved here with her single mother when she was 6 years old. Her mother thought she would stay for six months to help a family member in need, but she saw her daughter learning English and thriving in school. She decided to stay in Oklahoma in order for her daughter to receive a good education and go to college. This mother had a professional job in Mexico, but worked two jobs for 10 years at McDonald's just to make ends meet and provide for her daughter.
This one young woman started working at the age of 15, as she attended Putnam City West High School. She was forced to leave one job when her employer, a property manager, became fearful of retribution because of all the undocumented workers they employed. The company did everything it could to keep her, but in the end let her go. She still talks about being afraid, yet determined to carry on and reach her goal of going to college. She went to work at a Mexican grocery store. It was much less interesting to her than her previous job, but she kept her eye on her goal and kept going.
Working all the way through college, this one young woman graduated from the University of Oklahoma. She began working at Oklahoma City Public Schools (OKCPS) in the Language and Cultural Services Department. This department is critical to OKCPS, where our student population is 54% Hispanic and 40-plus languages are spoken. She moved to the community relations department and currently serves as the manager. Her work to engage community partners with our schools takes energy, dedication and hard work. She and her colleagues work daily with the Foundation, and we are extensions of each other's teams.
This one young woman started law school at Oklahoma City University last fall while working full time. Federal student loans aren't possible for Dreamers, so financing is difficult. But, this one young woman is determined. She also got married last year, and her wedding was filled with beauty and love.
This young woman has a name and a smile that lights up the room. Her name is Deisy Escalera, and she is smart, driven and focused. She has a huge heart and spends her days working to make things better for the students of OKCPS. There are many like her within the district and within our schools. They are American in their hearts and in their minds.
OKCPS needs Deisy. Oklahoma needs Deisy. The president and Congress must do the right thing for her and the 800,000 Dreamers who are contributing and making our world better.
Mary Mélon is president and CEO of The Foundation for Oklahoma City Public School.