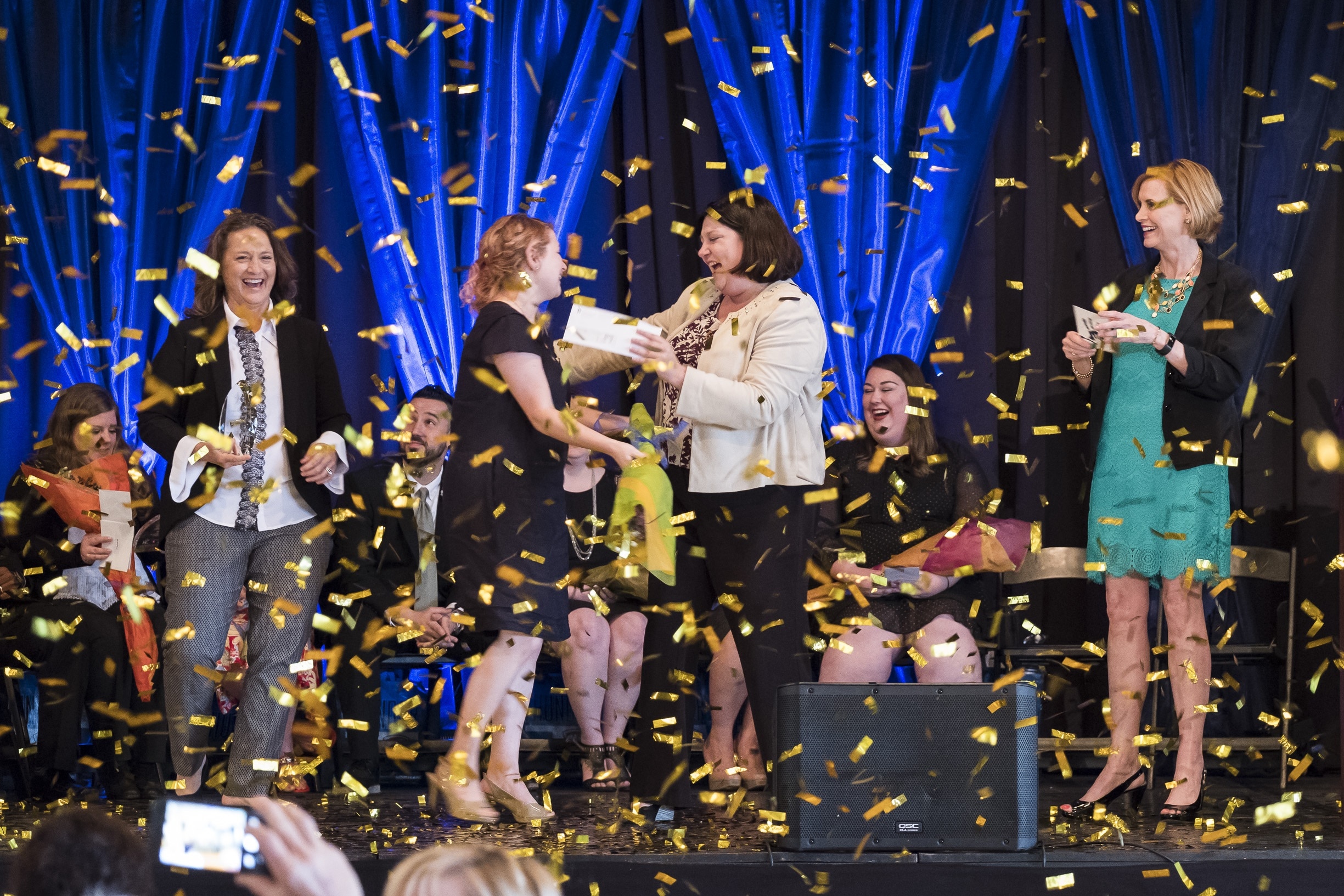 Wednesday May 10, 2017
Madison Wingate Chosen as OKCPS Teacher of the Year

OKLAHOMA CITY (May 10, 2017) – The Foundation for Oklahoma City Public Schools and the Oklahoma City Public Schools (OKCPS) District celebrated the selection of Madison Wingate as district Teacher of the Year at the 2017 Stars of Education celebration at the Historic OKC Farmers Public Market.
Wingate is a pre-K teacher at Pierce Elementary School. She received a cash award from The Foundation and will represent the district in the Oklahoma State Teacher of the Year competition.
Shannon Larsen from Wilson Arts Integration Elementary School was named first runner-up, and Amanda Trimble from Southern Hills Elementary School was chosen second runner-up. The winners were selected from a group of nine finalists who share a passion for teaching and a strong commitment to serving their students, schools and community:
• Abby Hernandez, Westwood Elementary School, second grade
• John Hill, Southeast High School, advanced math
• Shannon Larsen, Wilson Elementary School, special education, K-fifth grade
• Adrian Rosado, Linwood Elementary School, third grade
• Debbie Patry, Nichols Hills Elementary School, third grade
• Karen Sleigh, Webster Middle School, eighth grade math
• Dina Torres, Shidler Elementary School, English language development
• Amanda Trimble, Southern Hills Elementary School, fifth grade English language arts/social studies
• Madison Wingate, Pierce Elementary School, pre-K
"The Foundation is delighted to honor and recognize these outstanding educators who are a credit to the district and to our community," said Mary Mélon, president and CEO of The Foundation. "This outstanding group of teachers created a challenging situation for the selection committee. After a thorough process, the committee was delighted to select Madison Wingate. She is clearly an exceptional educator who represents the very best the district has to offer."
Wingate said she wants her classroom to be the place where students are safe enough to find their voice, take risks and be themselves.
"The idea a teacher has enough power to create a comfortable place to grow for not just one child, but many children for many years, is the reason why I had it in my heart to become a teacher," said Wingate.
The OKCPS Teacher of the Year has been named Oklahoma Teacher of the Year three times since 2000 – Talita DeNegri (2001), Robyn Hilger (2006) and Heather Sparks (2009). Rebecka Binion (2016) was a finalist for Oklahoma Teacher of the Year.
The Foundation also awarded five Partners in Action finalists as Community Partners of the Year:
• Chesapeake Energy Corp., large business
• Raising Cane's, medium business
• Regent Bank, small business
• Downtown Kiwanis, nonprofit
• St. Luke's United Methodist Church, faith-based
At the celebration, Mélon also announced The Foundation had reached a major milestone: $1 million in support for teacher requests through DonorsChoose.org. DonorsChoose.org allows teachers to request funding for supplies or projects to enrich learning. The Foundation matches contributions from individual and corporate donors for OKCPS teacher's projects with a total cost under $1,000. Matching funds are limited to two projects a year per teacher.