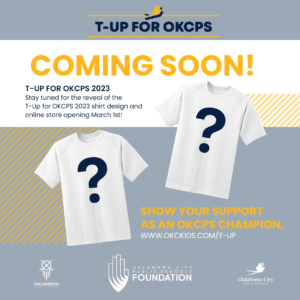 T-Up for OKCPS on May 4, 2023
What is T-Up for OKCPS?
T-Up for OKCPS is a day for the community to show their support and solidarity for OKCPS simply by purchasing a t-shirt (available in English and Spanish) and wearing it on the same day. This campaign raises funds and awareness for the needs of Oklahoma City Public Schools by supporting the impactful work of the Oklahoma City Public Schools Foundation. On May 4, 2023, thousands of individuals across our city, state and beyond will wear their T-Up for OKCPS shirt to show their proud support as an Oklahoma City Public Schools Champion!
Learn more about becoming a sponsor. Your name or company logo could be printed on every T-Up for OKCPS 2023 shirt!
learn more
Submit your contribution to T-Up for OKCPS and spread the word to encourage your friends, family and colleagues to show their support and solidarity for OKCPS.
complete your Donation or sponsorship