What is T-Up for OKCPS?
T-Up for OKCPS is a day for the community to show their support and solidarity for OKCPS simply by purchasing a t-shirt (available in English and Spanish) and wearing it on the same day. This campaign raises funds and awareness for the needs of Oklahoma City Public Schools by supporting the impactful work of the Oklahoma City Public Schools Foundation. On May 4, 2023, thousands of individuals across our city, state and beyond will wear their T-Up for OKCPS shirt to show their proud support as an Oklahoma City Public Schools Champion!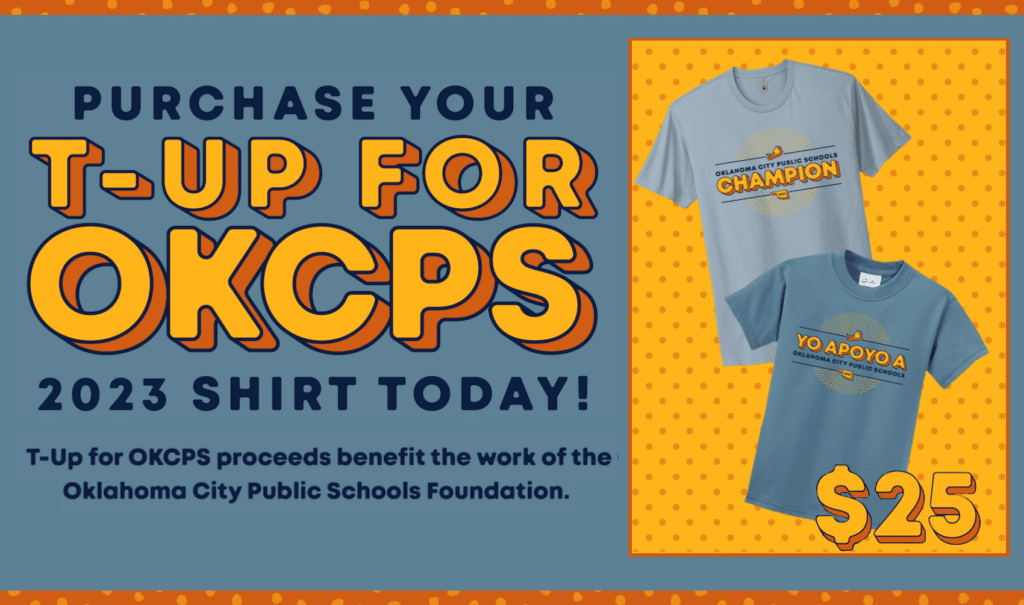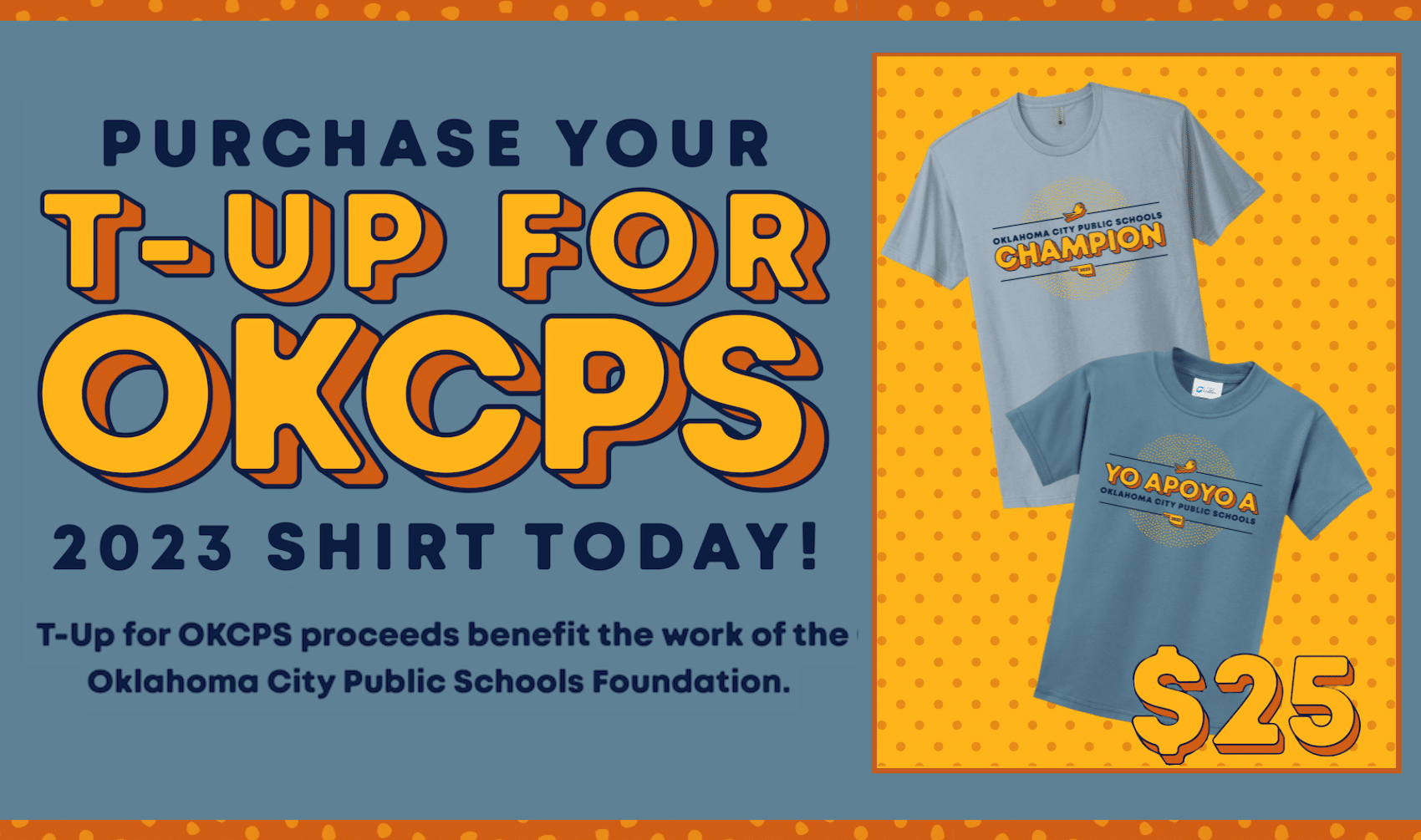 Want to contribute to the Foundation without purchasing t-shirts? Donations are always welcomed. Thank you for your support!
Make a Donation
Oklahoma City Public Schools Foundation hosts T-Up for OKCPS on May 4
2nd annual t-shirt fundraising campaign to support OKCPS schools, staff and students
OKLAHOMA CITY (March 1, 2023) – Today, the Oklahoma City Public Schools Foundation
launched its 2nd annual T-Up for OKCPS campaign. This fundraising event enables everyone in the
community to show support for the Oklahoma City Public Schools district by purchasing a special
edition "OKCPS Champion" T-shirt online, and wearing it on Thursday, May 4.
"The T-Up for OKCPS campaign is an engaging and public way for the community to show its support
for our educators and kids," said Mary Mélon-Tully, Oklahoma City Public Schools Foundation
president and CEO. "The reality is that many OKCPS kids and their families are struggling. In fact,
90% live at or below the poverty line. Our teachers and school staff are incredible. They show up
each day to pour into our amazing kids and they often do this with little thanks. Our schools can't do
it alone, and the funds raised through T-Up for OKCPS provide support for foundation programs that
directly support our teachers, classrooms and students. Every day, the Foundation works to fill the
gaps and create impact to ensure every child can flourish."
Oklahoma City business owners, community leaders and public education supporters, as well as
OKCPS families, staff and alumni are encouraged to get involved in T-Up for OKCPS by purchasing
shirts for themselves, for their organization's employees, or by adopting OKCPS schools and
classrooms to provide shirts.
The official T-Up for OKCPS store is open now and commemorative shirts are available for $25 at
www.okckids.com/t-up. T-shirts can be purchased online now through April 17th and will be
shipped at the end of April. The Oklahoma Shirt Company, which is based in OKC, will print and
distribute the shirts.
The event's 2023 co-chairs are Ashley Fitzpatrick, YPO Oklahoma City chapter manager, Lauren
Doyle, Membership Manager for the Greater OKC Chamber of Commerce, and Mark McCoy, SVP and
Corporate Trust Manager at Bank of Oklahoma.
"Supporting local education is critical for the success of the next generation," said Fitzpatrick.
"When a community comes together and invests in local education, it creates a positive feedback
loop that, in turn, benefits and strengthens the community as a whole. It's important work that
takes all of us to achieve. I can't wait to see our 2023 shirts in offices, grocery store aisles,
classrooms, parks and a million other places on May 4th as we show support for OKCPS teachers
and our kids."
"We want to encourage everyone from friends and family of OKCPS staff, to metro-area business
owners and community leaders, to OKCPS alumni and public education advocates across the
community and beyond to get involved in this year's T-Up for OKCPS campaign," said Doyle, event
co-chair. "Whether you purchase a shirt for yourself, your employees or even adopt a classroom and
provide tees, you're helping to raise awareness for the importance of local education and showing
our students and teachers the support they need and deserve."
"Last year's inaugural T-Up campaign was a huge success," said OKCPS Superintendent Dr. Sean
McDaniel. "Thanks to generous sponsors and thousands of supporters across the metro who bought
a shirt, the OKCPS Foundation raised $75,000 which had a direct impact on OKCPS classrooms. We
have high hopes of exceeding that total this year and are so grateful for our community that
continues to find ways to show OKCPS students and staff they are loved."
The May 4 date for T-Up for OKCPS was chosen intentionally to coincide with the OKCPS
Foundation's 2023 Stars of Education celebration, an annual event that announces the OKCPS
District Teacher of the Year and recognizes the people who do the day-to-day work of supporting
and educating OKCPS students.
The 2023 T-Up for OKCPS sponsors include:
American Fidelity
Arnall Family Foundation
Arvest Bank
Ascent Resources
AT&T
Bank of Oklahoma
Blue Cross Blue Shield
Cox Communications
Crowe & Dunlevy
Crux Technology and Security
Solutions
Devon
Dick and Glenna Tanenbaum
Dr. Subha Varahan
Ed and Jodi Sanchez
Fields and Futures
First United Bank
Inasmuch Foundation
INTEGRIS Health
Jeff and Debbie Trachtenberg
KOCO TV-5
Lopez-Dorada Foods
Love's Travel Stops and Country
Stores
Norman Youth Foundation
OG&E
Oklahoma City Thunder
Oklahoma Shirt Company
OU Health
Paycom
Robinson Park
SONIC Foundation
Stepping Stone Foundation
Valliance Bank
For more information about the OKCPS Foundation and 2023 T-Up for OKCPS t-shirt purchases,
please visit www.okckids.com/t-up.
T-Up for OKCPS 2023 Sponsors
Thank you to our t-shirt sponsors for their generous contributions towards the Foundation's endeavors to support Oklahoma City Public Schools.
Blue Cross Blue Shield of Oklahoma
Crux Technology and Security Solutions
Jeff and Debbie Trachtenberg
Loves Travel Stops and Country Stores
Stepping Stone Foundation
Dick and Glenna Tanenbaum